Summary of work at the 'Ziurel' Welfare Centre in Sacele, Romania
<![if !vml]>
<![endif]>Romania is still a very poor country. The Roma people were brought to the country in large numbers as slaves several centuries ago and are still treated as second class citizens. They live in villages near Romanian towns, in shacks made from scrap material, often with no piped water or proper sanitation. A serious problem is the lack of pre-school preparation for the Roma children, many of whom can't cope with school when they start at age seven and drop out, perhaps to become street children.
A Romanian charity 'FAST' is working hard to help the Roma people in the villages near Sacele, Brasov. In 2006, 2007 and 2008, Altrincham Methodist Church, as part of 'STEPS Romania', helped FAST construct and equip a welfare centre for Roma children.
In 2005, before we got involved, FAST had acquired and old boiler house, dismantled the tall brick chimney and started clearing the inside.
<![if !vml]>
<![endif]><![if !vml]>
<![endif]>
<![if !vml]>
<![endif]>
By the end of 2008, it looked a little different!
<![if !vml]>
<![endif]>
Our first job was to dig the foundations for a large extension and buy timber for a second storey and roof.
<![if !vml]>
<![endif]><![if !vml]>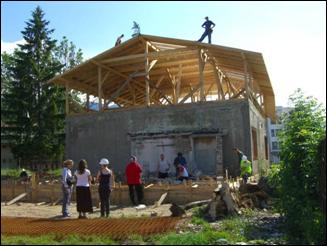 <![endif]>
During 2006, 2007 and 2008, we helped insulate and clad walls, make partitions, tile floors, fit toilets, showers, washrooms a kitchen and central heating. Activity rooms for the children and bedrooms for volunteers were created.
<![if !vml]>
<![endif]><![if !vml]>
<![endif]>  
<![if !vml]> <![endif]>
<![if !vml]> <![endif]>
Children now come to the centre every day. As necessary they can shower, receive clean clothes and have their own clothes washed. They join in educational activities and are given a meal before they leave.  The centre is also evolving into a community centre and a base for volunteers to work in the nearby Roma villages.
We are very proud of the contribution we have been able to make, and are full of admiration for Daniel, his family and helpers in the FAST organisation, without whose dedication the centre would not exist.
You can see what we achieved each year by following the index links.